Description
Palace Baklava With Pistachio
This is also a very special type of Baklava and is generally made up of 30 layers of Baklava dough. It is a traditional Turkish dessert and it is carrot-shaped. The ratio of the layers is lesser than the other kinds of baklava. The fluffy part should be put into the mouth first and then the rest of the part should be eaten. The smell of the butter is heavenly and leaves a delicious taste. The flavor of the pistachio makes it even tastier. It is absolutely preservative-free and is highly recommended for the sweet lovers out there.
Palace baklava is made of 30-layer phyllo. The rate of dough is less than other baklava varieties. Coarsely ground pistachio is peppered inside layers in handfuls. It is cut into slices that are slightly larger than other baklawa varieties. The butter is slightly higher than the classic baklawa whereas the sugar is rather less.
Details
1KG boxes contain approx 10 slices of Baklava.

Keep in a cool and dry place for 5 days. 

Absolutely does not contain any 

color additives and preservatives.
 Click here to know more about Turkish Baklavas from our blogs.
Ingredients: Granulated sugar, potable water, wheat flour, pistachio, wheat starch, egg, and common salt 
 

Our products are prepared every day fresh for our clients. We do not over-prepare and deliver it the next day. We guarantee freshness in our products. We can assure you that we are the top hygienic kitchens with certificates. 
Payment & Security
Your payment information is processed securely. We do not store credit card details nor have access to your credit card information.
Customer Reviews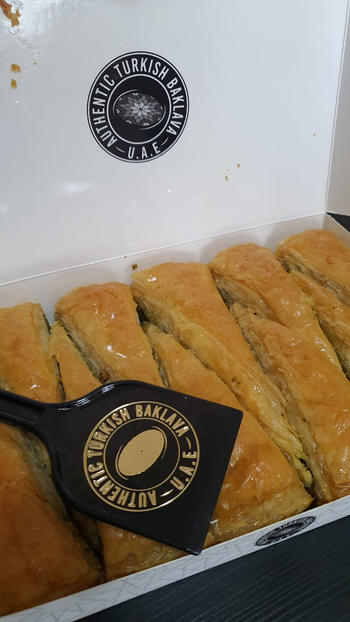 04/05/2021
I recommend this product
The real OGs of BAKLAVA
The first bite into the baklava seals the deal, it is so soft and the sweetness is the just just perfect. The pistachios are not that crunchy but more chewy and that is awesome. Have it with a huge dollop of vanilla ice cream and take a ride in heaven :)
Anonymous

United Arab Emirates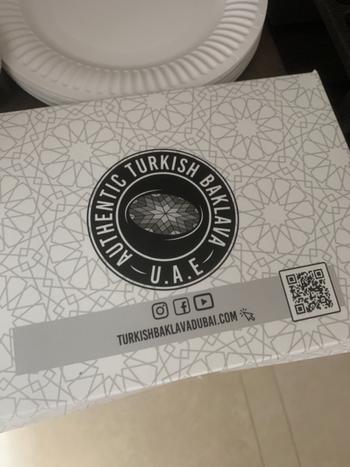 02/26/2021
I recommend this product
Delicious & Fresh
It was so delicious, thanks.
Anonymous

United Arab Emirates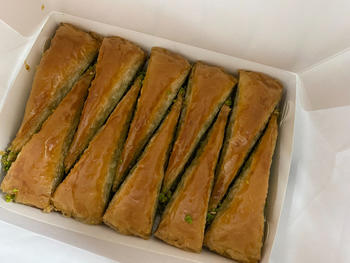 09/27/2020
I recommend this product
The best one in dubai
Delivery was abit late but worth waiting for it!
Ahmet O.

United Arab Emirates
07/20/2021
I recommend this product
Baklava at its best
Wonderful experience, ordered the product without consulting or reviewing other's comments, but it happened to be a wonderful experience.
Anonymous

United Arab Emirates
06/17/2021
I recommend this product
Very delicious
Amazing ..quickly shipping
Feras A.

United Arab Emirates