Description
Turkish Baklava with Pistachios 
This is a very common type of Baklava found. It consists of
'' 
phyllo
' 
made with a large amount of butter and is heaped with pistachios. The fragrance of the pistachios makes it utterly delicious. It is mostly prepared during family gatherings and special occasions. The layers of phyllo, butter, pistachios, and perfumed syrup make it delectable and drool-worthy. The very thin dough is used for making the pastries. After baking, sugar syrup is poured over the
' 
phyllo
' 
sheets to soak up. It is crunchy and one can feel the flavors in their mouth. It can be stored at a cool and dry place for up to 5 days and therefore, it is a good option for gifting it to somebody on special occasions.
How It Is Made?
Baklawa with pistachio is prepared by using 40 layers of phyllo on average. Among its ingredients is pistachio which is cultivated in Gaziantep and is also known as "gray pistachio". Baklawa is cooked at 160°c in the oven for 45 minutes. Its syrup with sugar, boiled at around 110°c is added.
Details
1KG boxes contain approx 24 pieces of Baklava.

Keep in a cool and dry place for 5 days. 

Absolutely does not contain any 

color additives and preservatives.
 Click here to know more about Turkish Baklavas from our blogs.
Ingredients: granulated sugar, drinking water, wheat flour, plain butter, granulated pistachio, starch, egg, table salt 
 

Our products are prepared every day fresh for our clients. We do not over-prepare and deliver it the next day. We guarantee freshness in our products. We can assure you that we are the top hygienic kitchens with certificates. 
Payment & Security
Your payment information is processed securely. We do not store credit card details nor have access to your credit card information.
Customer Reviews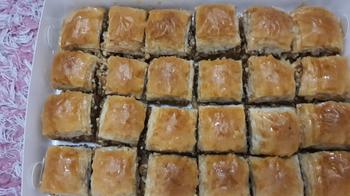 02/15/2021
I recommend this product
Excellent
Very tasty and delicious
Anonymous

United Arab Emirates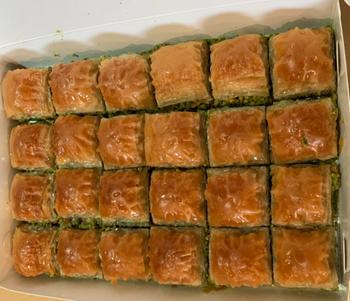 12/31/2020
I recommend this product
Best baklava in town
Excellent, fresh , fluffy perfect amount of syrup, really yummy.
Anonymous

United Arab Emirates
05/09/2021
I recommend this product
Order was swapped
My order for pistachio baklava was swapped mistakenly by the production to a walnut , once I reported , the staff was very nice and professional. They have offered me a voucher to get it for another time . I love this place abs they are proving they are great in all aspects. Thanks a lot
Zafer H.

United Arab Emirates
04/28/2021
I recommend this product
Baklava with pistachio
It was an amazing experience. The taste is very special. The pastry is fluffy and it just dissolves in your mouth. Burst of flavors.
Anonymous

United Arab Emirates
04/18/2021
I recommend this product
Turkish Baklava with Pistachio
Perfect and recommended
Anonymous

United Arab Emirates