Description
Wrapped Baklava with Pistachio is made of one roll of phyllo. 90% of it is pistachio. Its syrup is slightly less than the classic baklawa. It will be specially cooked in the oven at 170 degrees. 
Keep in a cool and dry place for 5 Days. 
Ingredients: Granulated powder, pistachio kernels, potable water, wheat flour, plain butter, wheat starch, egg, and common salt.
Our products are prepared every day fresh for our clients. We do not over-prepare and deliver it the next day. We guarantee freshness in our products. We can assure you that we are the top hygienic kitchens with certificates. 
Payment & Security
Your payment information is processed securely. We do not store credit card details nor have access to your credit card information.
Customer Reviews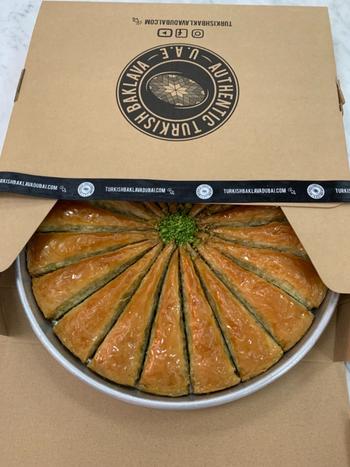 10/12/2020
I recommend this product
Amazing pistachio they have
It was great baklava and was more than expected I never eat such baklava in all uae better than any baklava.
Tao y.

United Arab Emirates
07/10/2021
I recommend this product
Amazingly fresh
Fresh, excellent packing and really delicious
Anonymous

United Arab Emirates
12/19/2020
I recommend this product
Best pistachio baklava ever
Its beyond amazing! Fresh, soft and crisp at the same time, perfect sweetness! Honestly this is the ONLY place outside Turkey that serve best pistachio baklava. Everytime we go to Turkey we make sure to get some for home. Now we can have it whenever we crave it. Greart job!
Hamda A.

United Arab Emirates
09/16/2020
Wrap With Pistachio
Very good product. Very tasty but too much syrup. Could taste much better with less syrup.
Arif A.

United Arab Emirates